Sunday afternoons are the perfect time to be lazy and enjoy a casual lunch cooked by someone else. This past Sunday that is just what the husband and I enjoyed at Chaophraya Edinburgh. This was our first visit and though we knew it had great views, we didn't know much else. As we discovered, Chaophraya is a sophisticated and contemporary restaurant with a relaxed feel. The decor is modern with a Thai twist, think gold and dark woods with exotic flourishes. While any seat is a good one in the beautiful dining rooms its the tables with an outside view that are highest in demand. There are some with views of the Firth of Forth and George Street but we were lucky  enough to get a view of the castle, pictured above.
Capitalising on its exposures, Chaophraya has special dinner packages for viewing the Festival and Hogmanay fireworks and it's easy to see why.   This past Sunday though we weren't there for fireworks, we were there to try the new daytime menu. Served Sunday through Thursday, noon till 4pm, the menu offers 2 courses for £13.50 or 3 courses for £18.50.
You can choose from a selection of classic Thai dishes such as spring rolls and dumplings, pad thai and curries, or a Thai twists on sticky toffee pudding and a variety of ice creams. Don't fancy a set meal? Everything is priced individually with more options if you go a la carte. Being greedy we opted for the full 3 courses on the set daytime menu but first, cocktails.
I went for the Lychee Tom Collins and hubs had the Mojito. Both arrived and were quickly sipped with much approval. The Lychee Collins was tart and refreshing with a hint of sweetness and perfume from the lychee liqueur. The mojito was just as refreshing, and a great example of the classic drink, but we both agreed I had made the better choice.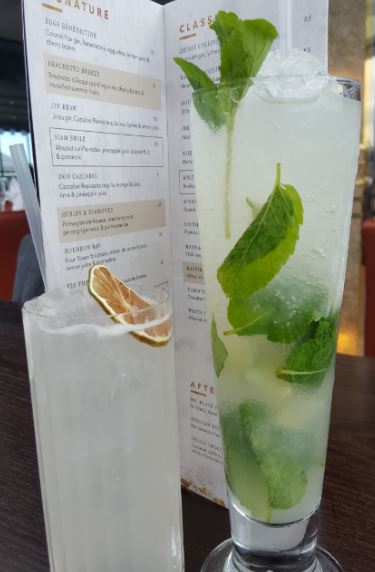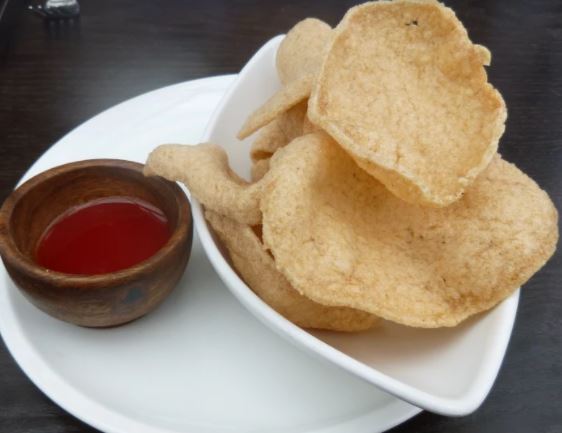 We placed our order for lunch and were offered complimentary prawn crackers except these were not prawn crackers as we know them; they were crisp and light and nothing like those polystyrene-esque crackers you get with a takeaway.
We scoffed the lot in a matter of seconds.
Our starters arrived soon after and the first thing we noticed was the generous portion size. You don't often find set menus with a la carte portions but here you do.
We had opted for the pork dumplings and the sweet corn cakes. The dumplings looked like typical Shumai but tasted like heaven. The pastry encasing them was thin while the filling was tender and delightfully savoury.  
The corn cakes were loaded with fresh sweet corn in a crispy batter with hints of red curry paste coming through. Dipped in the accompanying sweet chilli sauce they were a well balanced mix of spice, sweet, and crunch.
The service at Chaophraya is swift, attentive, and professional. We were never left waiting and someone always came back to check that we were happy with our food and drinks.
Once the starters were cleared it wasn't long till our main courses arrived.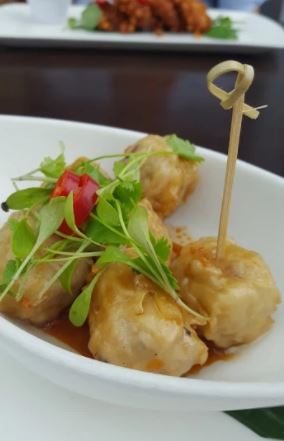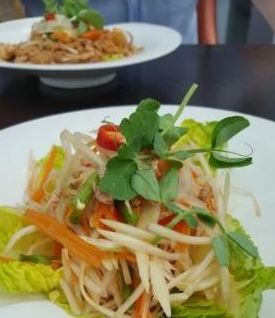 When I ordered the Papaya salad the  waitress checked that I was happy for it to be served spicy and yes, it was very spicy.
Even though my mouth was feeling the burn I could not stop eating the fresh, crisp salad.  I stole as many bites as I could of the Pad Thai, it was delicious.
The combination of flavours and textures from the fresh lime, crushed peanuts, chicken, egg, tofu, and pickled vegetables made for a perfectly balanced dish.
Though perfectly satisfied after two courses I just can't say no to ice cream, especially interesting flavours made exclusively for the restaurant, who knows when I might get to try them again? We indulge in all three scoops offered per portion and choose toasted coconut, salted caramel, and strawberry ripple in one bowl and mango, lemongrass and lime, and peach and prosecco sorbet in the other. Our favourites were strawberry ripple with loads of fresh fruit flavours coming through and peach and prosecco, which tasted exactly like a bellini. It was a great way to end a fantastic meal.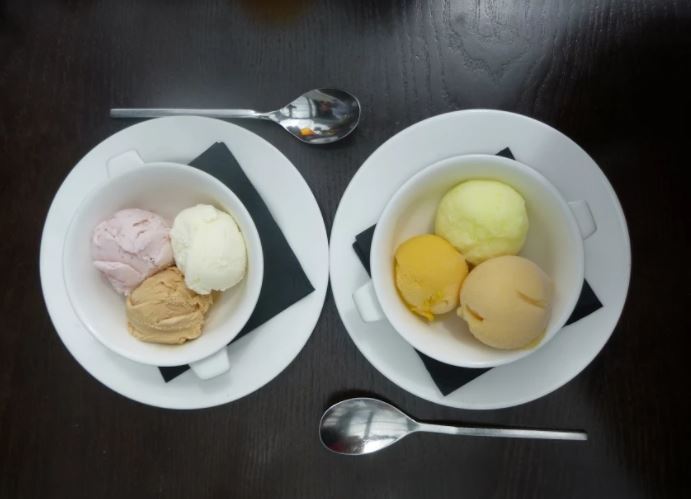 We could not believe what outstanding value the daytime menu was and, had we not ordered cocktails and taken our time, we could easily have been in and out with 2 courses in about 45 minutes making it a great option for business lunches.
For now, you don't need to book a table for the daytime menu but I expect this will change rather quickly once more people discover it for themselves. Until then, you will find me most afternoons soaking up the unparalleled views and the exotic flavours at Chaophraya Edinburgh.