Laura Simpson enjoys Afternoon Tea at Patisserie Valerie and tells mi Edinburgh all about it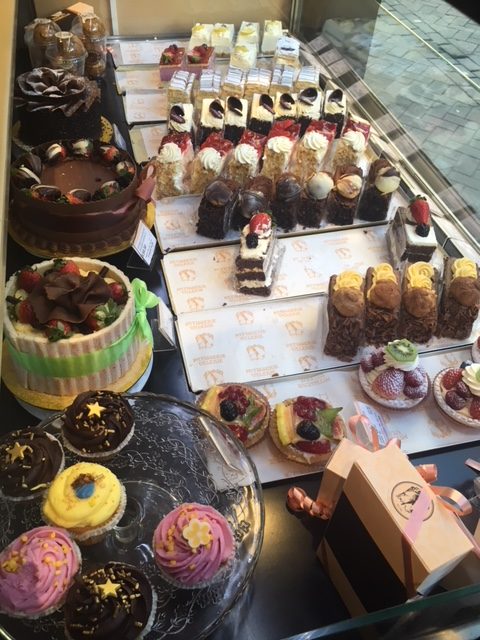 Last Sunday I spent a lovely afternoon in town with my aunt shopping. As a belated birthday celebration for me, we decided that not just one slice of cake would suffice – we were seeking a more indulgent experience! Both being favourable to Patisserie Valerie cake we decided to try their afternoon tea. The patisserie is located at the West End of Rose Street, just off Castle Terrace. The cake display in the window tempts you inside where you are greeted with a stylish café that evokes the spirit Paris.  Split over two levels, you can opt to sit on the ground floor amongst the hustle and bustle of diners and customers popping in for a slice of delicious cake and a coffee to take away. We chose to sit upstairs at a window table overlooking historic Rose Street. Upstairs offers a more relaxed environment – perfect to while away a couple of hours and watch the world go by below. Settled into our table by the attentive staff we ordered the Afternoon Tea for two, very reasonably priced at £25.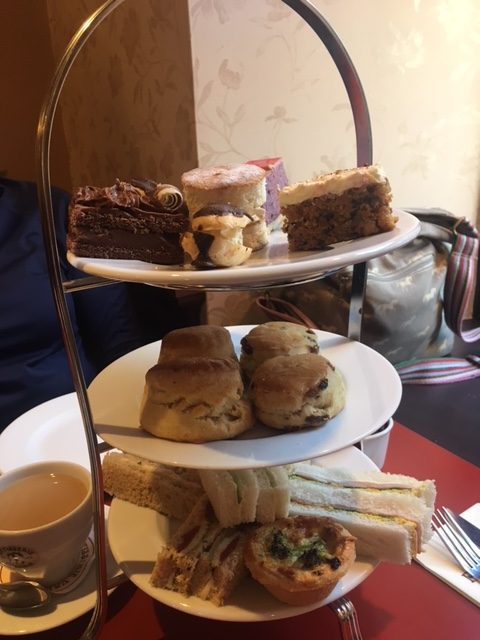 We quickly ordered a couple of pots of Earl Grey Tea and waited eagerly for the food to arrive!! We were not disappointed when it did. Displayed on a  cake stand you are served a selection of finger sandwiches, including the classic cucumber sandwich, along with other favourites such as egg & cress, and ham with fresh spinach.  Both of our firm favourite of the selection was the smoked salmon and cream cheese. Delicious. Alongside the sandwiches is a warm and tasty Mini Vegetable Quiche, a very close second favourite of the savoury selection. Taking a methodical approach to our afternoon tea we moved up to the next tier of the cake stand, enjoying two light, fluffy, freshly baked scones. We were served two scones each – one plain and one fruit.  Served with a selection of jams, butter and clotted cream. Finally moving on to the main event – the CAKE!!  A beautiful miniature selection of Patisserie Valerie's finest fancy cakes; mini chocolate eclairs, a dainty Victoria sponge, mini wedge of carrot cake with cream cheese frosting, a taster of indulgent chocolate cake, finishing off with a light as air mini mixed berry mousse.  All the cakes were delicious a firm favourite being the mini eclairs – YUM!!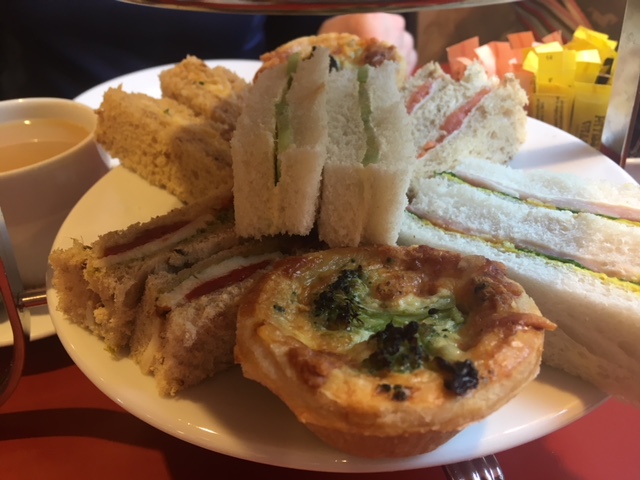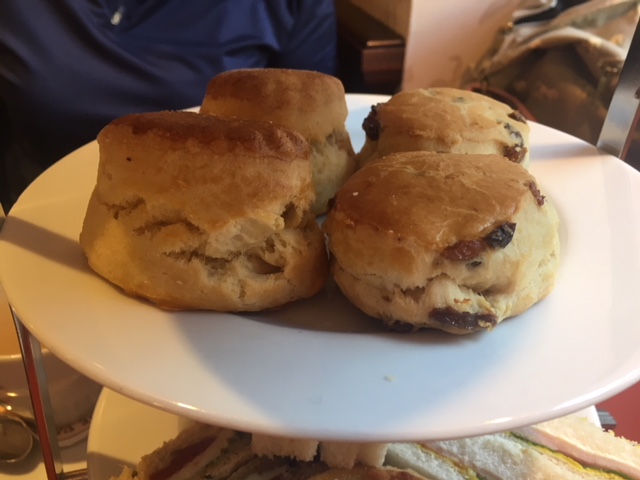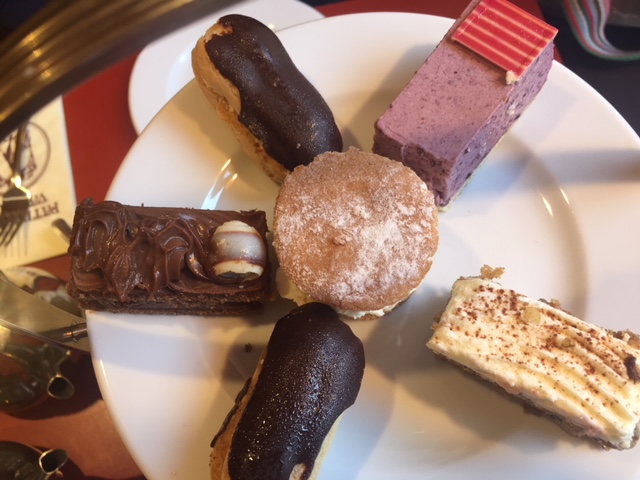 Finishing off our pots of tea, we decided it was only fair to treat our families at home to a slice or two of cake from the patisserie counter. The choice to take away can be overwhelming, we wanted to try them all, they all look so tempting! After much deliberation, I finally chose a slice of Strawberry Gateau and a slice of Millefeuille, which were boxed and packaged beautifully.  This was again, very reasonably priced for the quality on offer at just £5 for the two slices. This will certainly not be our last trip to Patisserie Valerie, and with Mother's Day this Sunday I can think of no better place to take your Mum or loved one for an indulgent sweet treat.