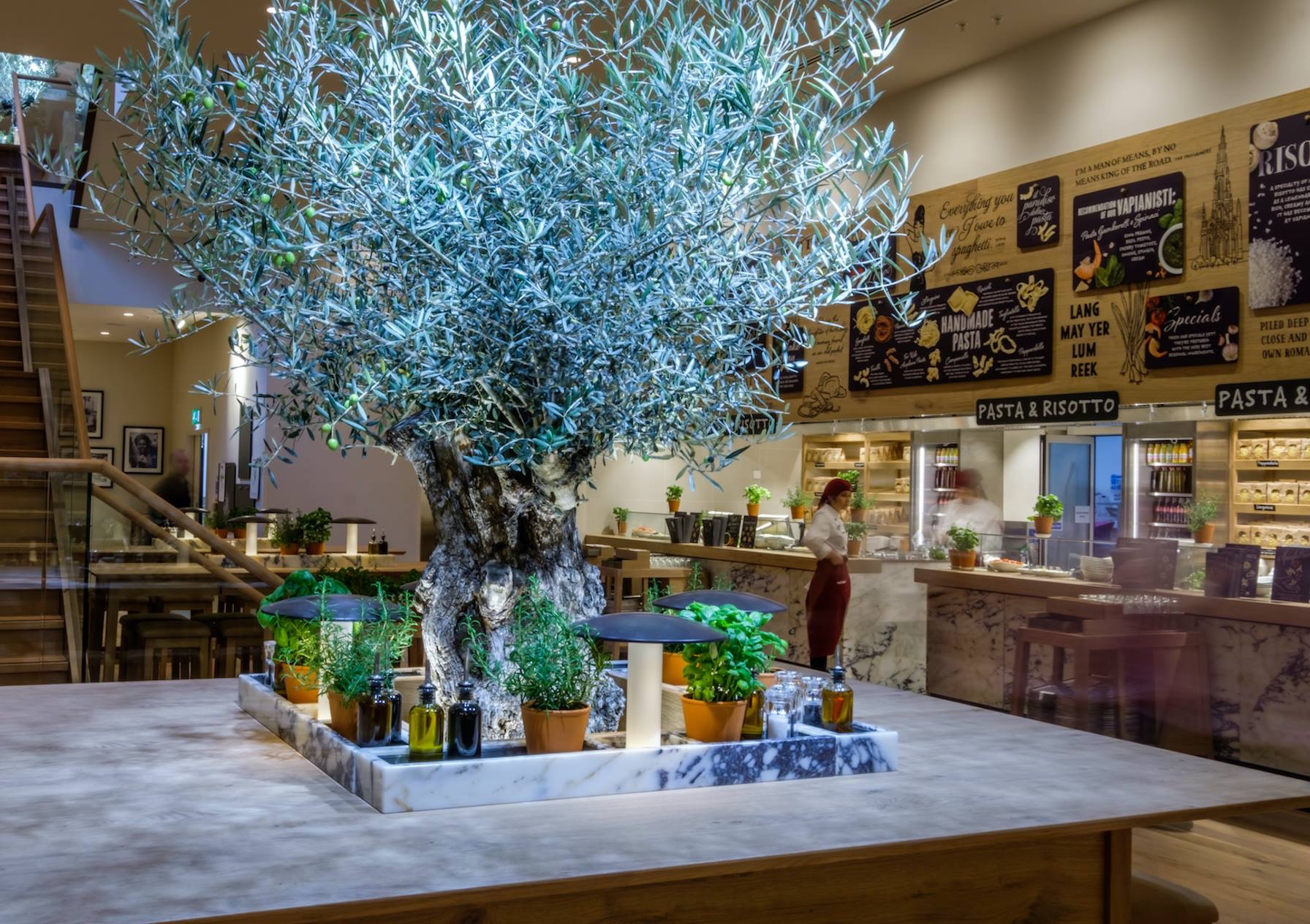 I have to admit I was a bit skeptical about Vapiano. I heard good things from friends in London but wondered how Edinburgh would receive it? Would it seem too gimmicky with its various stations and payment card system? In truth, it's very easy to order and get what you want, just how you want it at Vapiano. Dining there was a great experience from start to finish and one our family will repeat.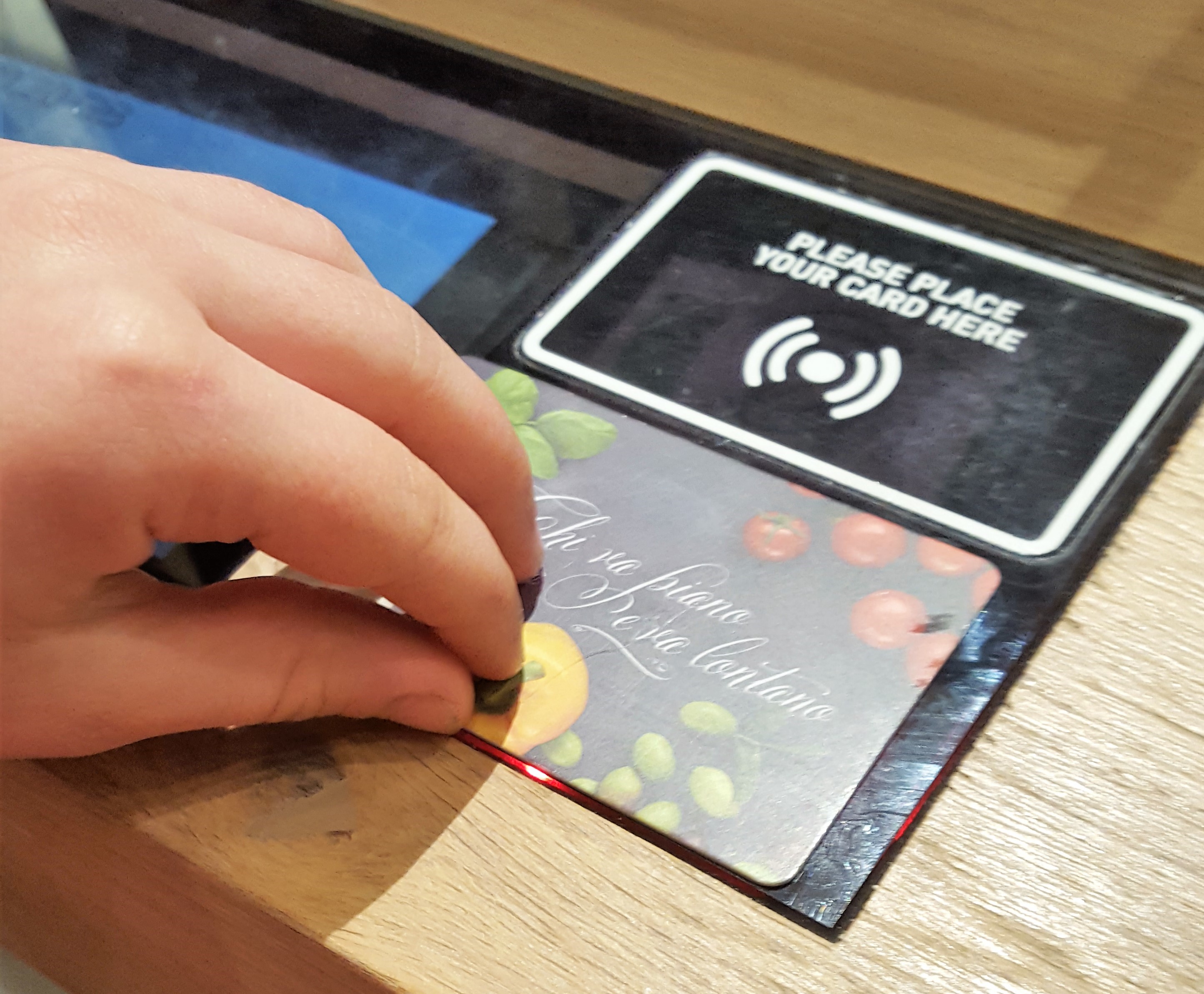 When we entered the welcoming space we were asked if we had ever been to Vapiano before. Admitting to being novices, we were given a full explanation, our payment cards, and told that each station had a payment pad which we would be asked to tap our payment cards on when we ordered.
All food and drink is tracked on the cards making it easy to pay for what you have individually (perfect for group dining). We were then told where each station was for pizza, antipasti, salad, and pasta and encouraged to find our perfect table across the three levels.
What impressed us most about the restaurant, just off St Andrew Square on South St David Street, is how bright and airy it feels. The real olive trees and fresh herbs on the tables, coupled with high ceilings and an open plan layout make for a truly beautiful space to spend time in.
The little one opted for a pizza with salami from the childrens menu. Standing at the counter and watching her pizza being made was a real thrill. Once it was in the oven we were given a buzzer so we could sit and relax, or go to another station while we waited. The pizza itself was generously sized and made to look like a fish, which was a cute touch. The crust was crisp on the outside and soft on the inside, like a good pizza should be. We all gobbled it up.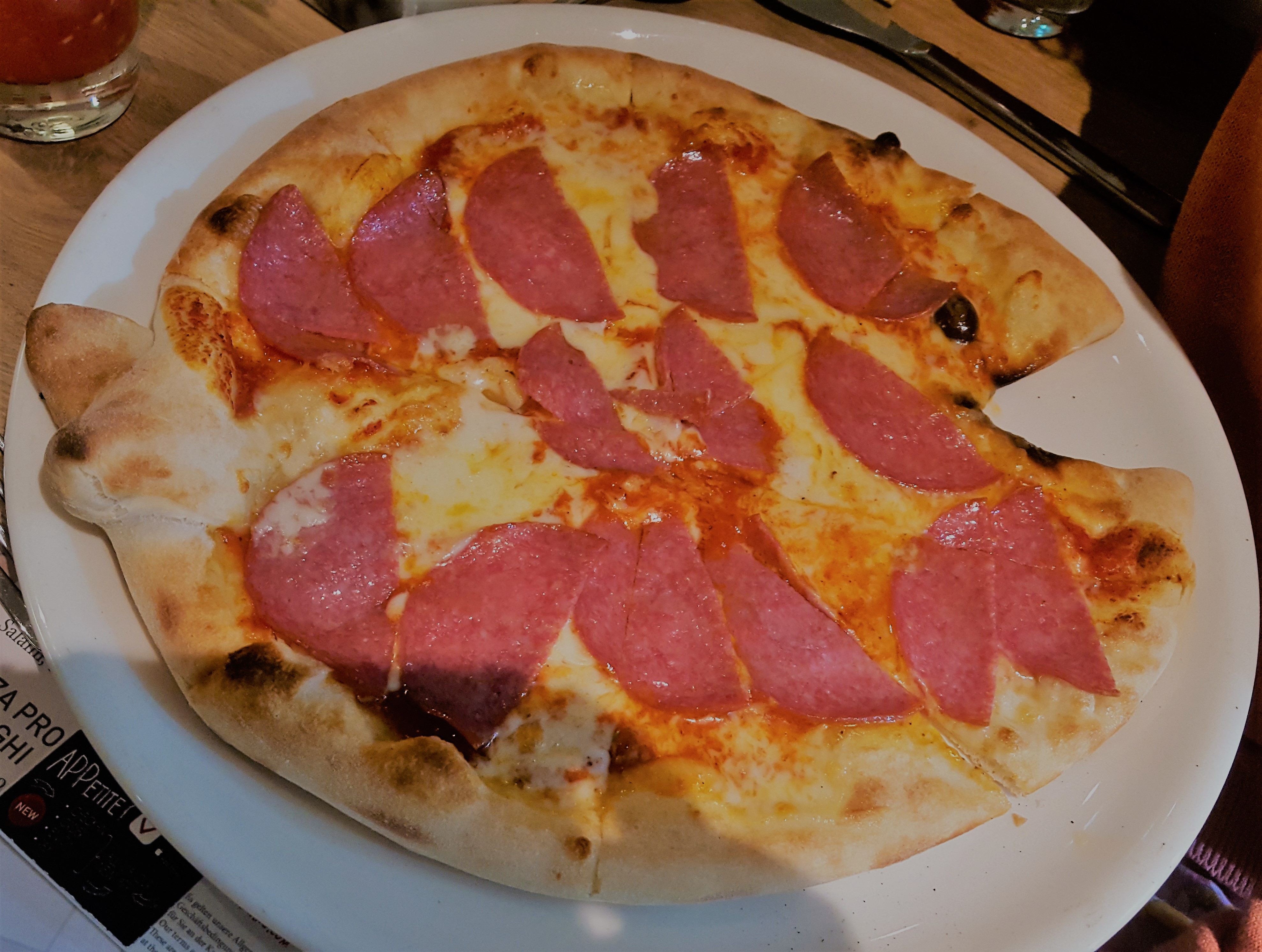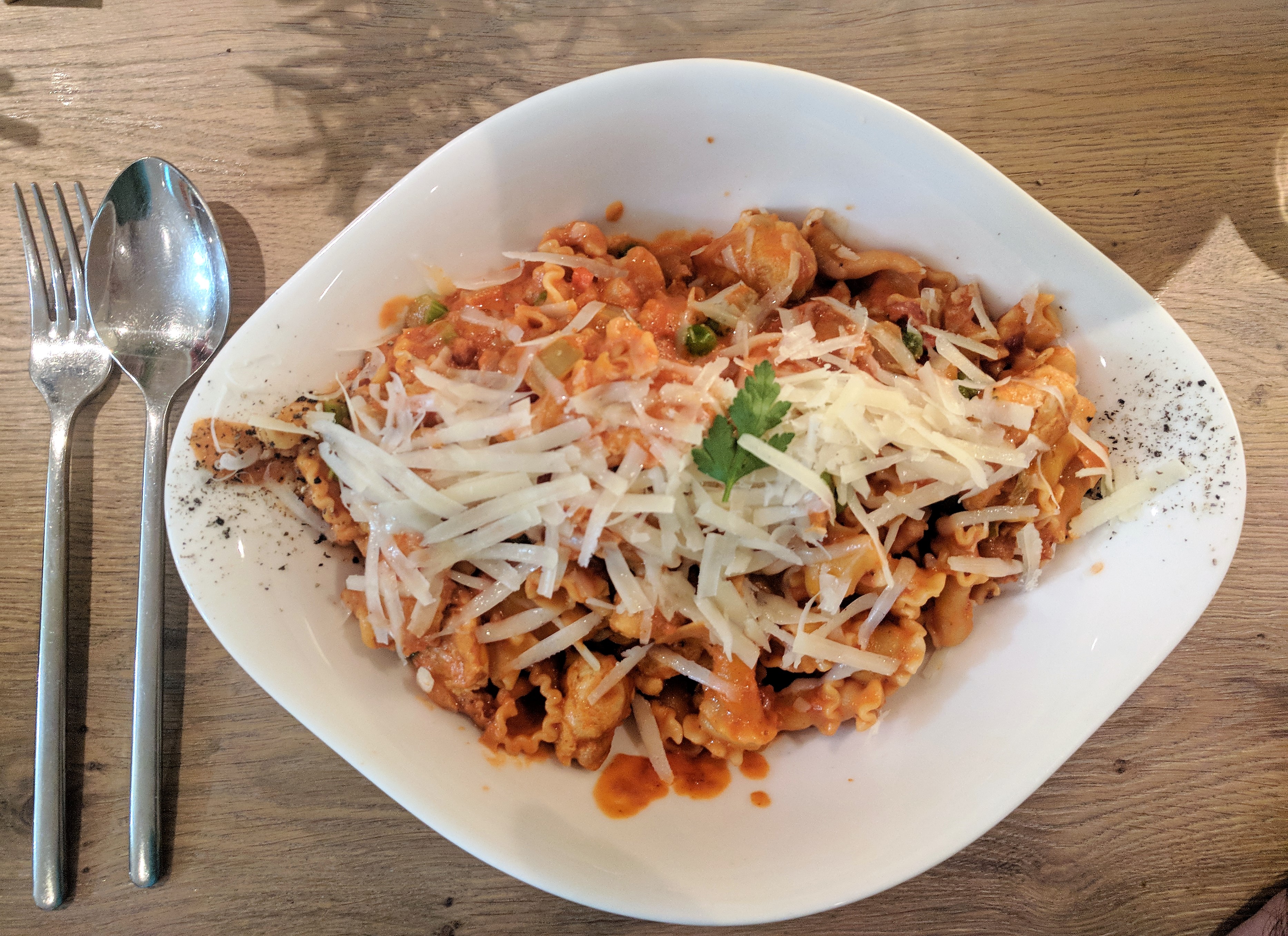 Located on the bottom level, the pasta station has a number of chefs at the ready to create your perfect dish before your very eyes. Vapiano has 11 different varieties of pasta made fresh daily on site. There's also a number of herbs and spices to customise your meal. The husband decided to go for a pasta dish called Cognac made with chicken breast, bacon, peas, garlic, cream, tomato sauce, cognac, white and spring onions. Being a fan of spice, extra chilli and garlic was asked for as well as a large portion of chicken.
I had serious food envy when I saw his heaping bowl of pasta, lucky for me there was plenty to share. The sauce was rich and hearty with a nice hint of smoky flavour coming from the bacon and cognac and the pasta was perfectly al dente. A great dish and one I would come back for again.
Knowing I would get a bite of everyone else's food I ordered a salad. The Insalata Reef and Beef comes with generous chunks of beef fillet and juicy king prawns, grilled mediterranean vegetables, cherry tomatoes, spring onions, and mixed leaves topped with Grana Padano D.O.P.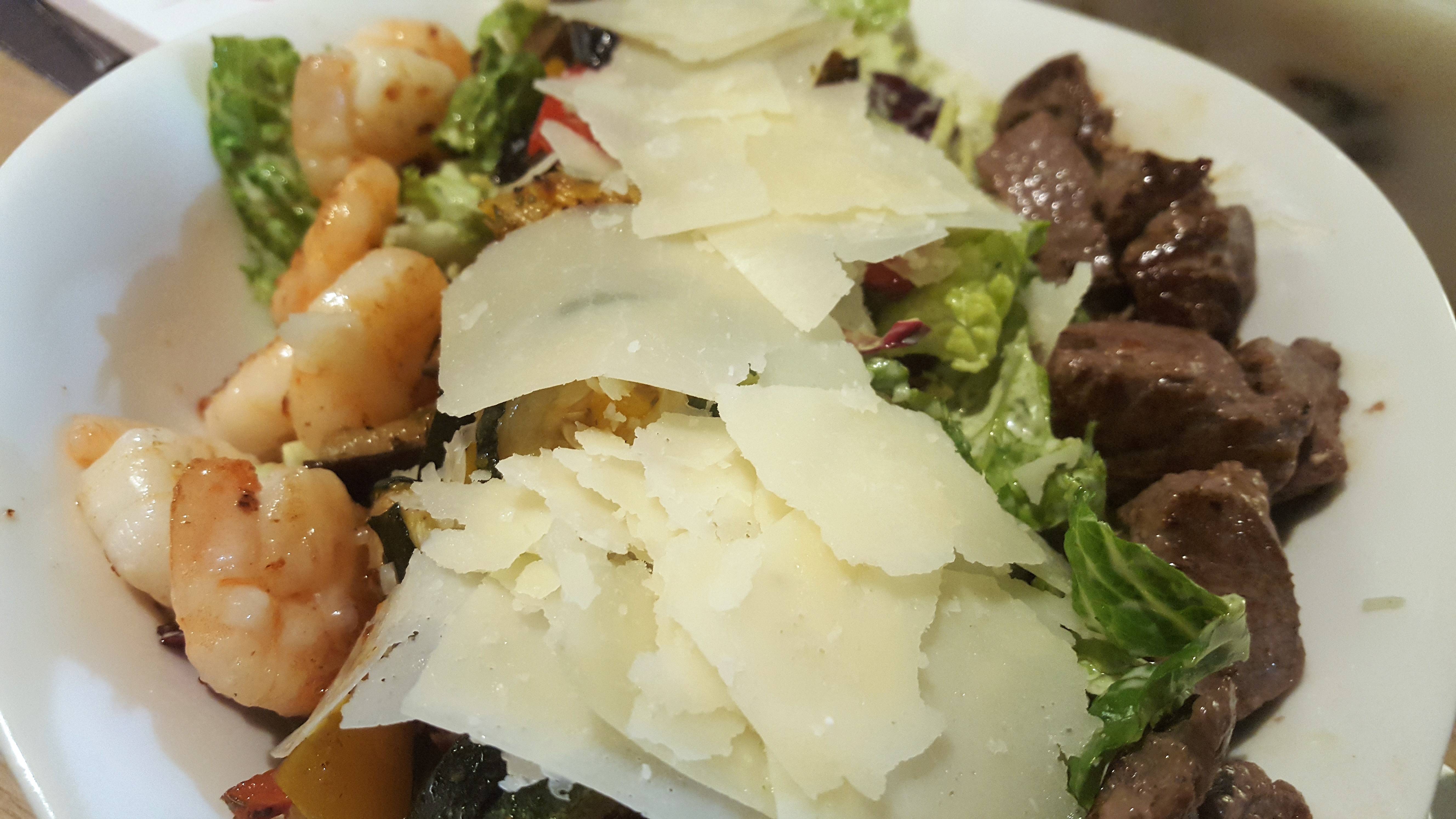 I really enjoyed the flavour and texture combinations in the salad. The tender vegetables paired well with the crispy salad leaves. I found the flavour of the rocket mustard dressing a bit overpowering and would probably opt for the balsamico next time.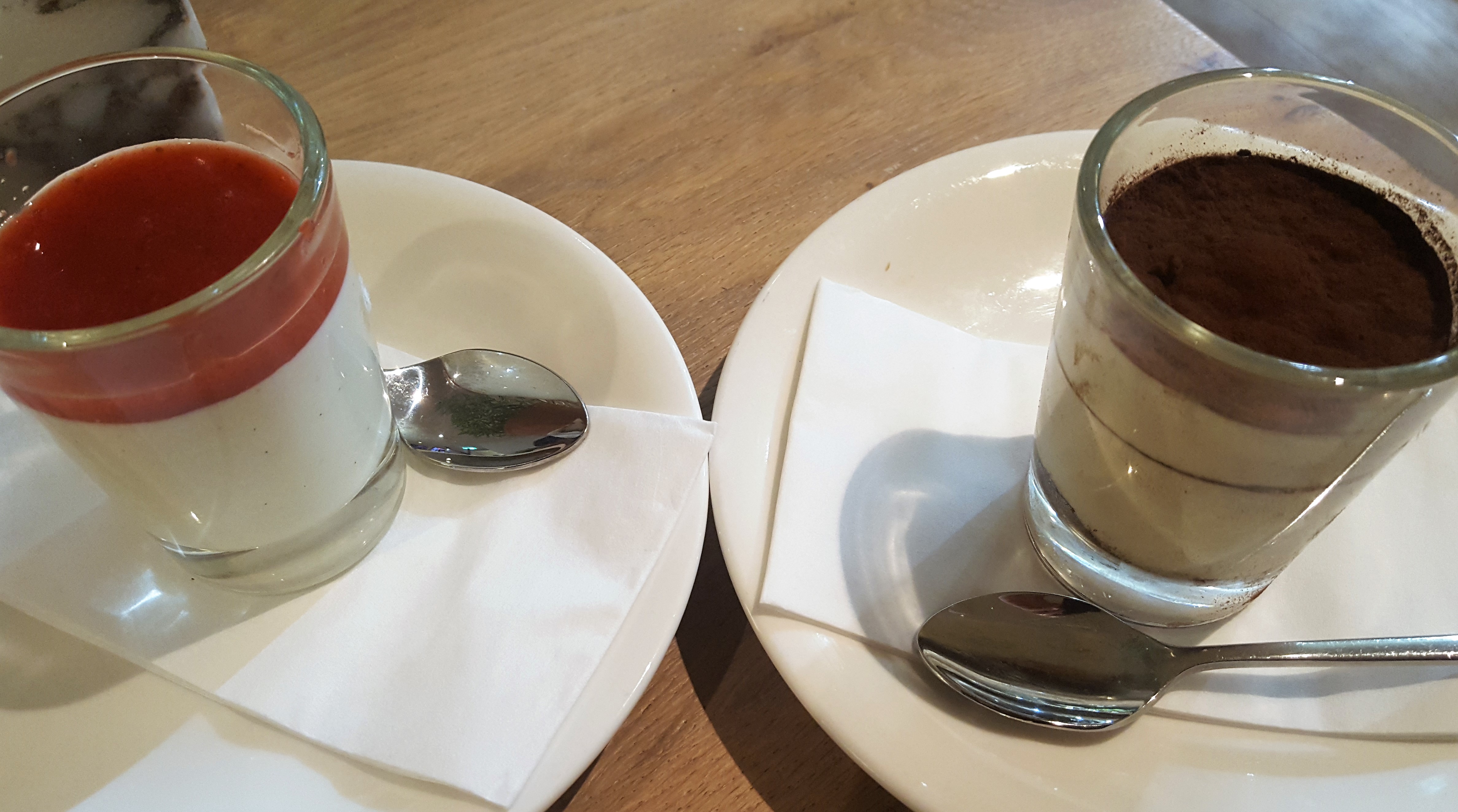 We were fairly full but noticed that the dolci come in both full and mini sizes. That being the case we felt we could just about manage a mini sweet, or two. Both the tiramisu and panna cotta were delicious but our favorite was the latter – creamy and silky with a strong aromatic kick of vanilla. Absolutely stand out pudding.
We finished off our meal with a quick coffee and then up to the till to hand over our cards and pay, the value for money was outstanding for the city centre. While having different stations to order your food from may not be everyone's cup of tea we enjoyed the experience. It's comforting seeing a chef cook your meal in front of you and knowing it's fresh. We saw lots of people having quick bites to eat, leaving 20-30 minutes after they came in, but we stayed a couple of hours taking our time and enjoying the atmosphere. If you haven't tried Vapiano yet make a point to pop in for a pizza the next time you are in town, you won't regret it.